---
Sorry, this page could not be updated due to unforseen circumstances
Please visit our new, enhanced site at http://mptb.virtualave.net
---

TUANKU BAINUN TEACHER'S COLLEGE, PENANG

Strategically located beside the Kulim-Butterworth expressway and in close proximity to the scenic beauty of Mengkuang Dam Tuanku Bainun Teacher's College (MPTB) is in the state of Penang and is the 30th of 31 teacher training colleges in Malaysia. It is also within walking distance from the agro-tourist village of Mengkuang Titi. Built on a 67 hectare site in 1993, the campus was officially opened by the then Queen, Tuanku Bainun. Hence the name of the college.
The first batch of trainees received their scrolls in the college's first convocation, held in 1995. The Deputy Prime Minister, Datuk Seri Anwar Ibrahim, who is also the Member of Parliament of this constituency, was on hand to officiate the convocation ceremony.
Please read on to discover what Tuanku Bainun Teacher's College has to offer.

MPTB'S song ( best experienced with Netscape 3.0 )
---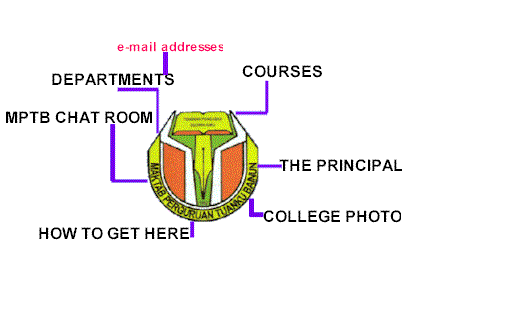 ---
EDUCATION LINKS
---
OTHER LINKS

Send suggestions or comments to
mptb@tm.net.my
and queries to
The Principal
Tuanku Bainun Teacher's College
14000 Mengkuang
Bukit Mertajam
Pulau Pinang
Malaysia
Tel: 04-5215227
Fax:04-5214955
Created in June 1996
Last modified/updated: *February 1998
---
Number of visitors since 14th March 1997
---
Guestbook by Lpage.com
---
Go to Basri's homepage